UL CERTIFICATE OF COMPLIANCE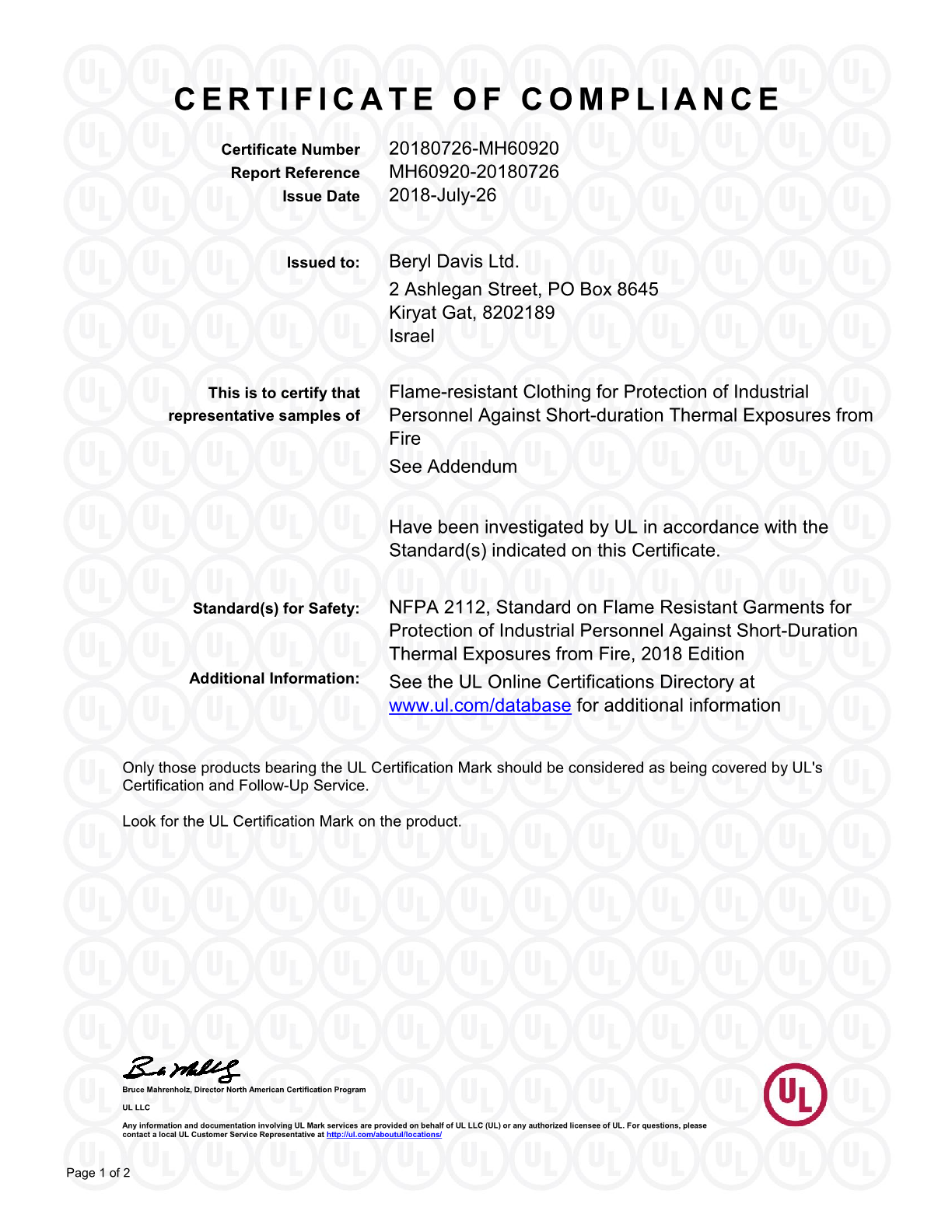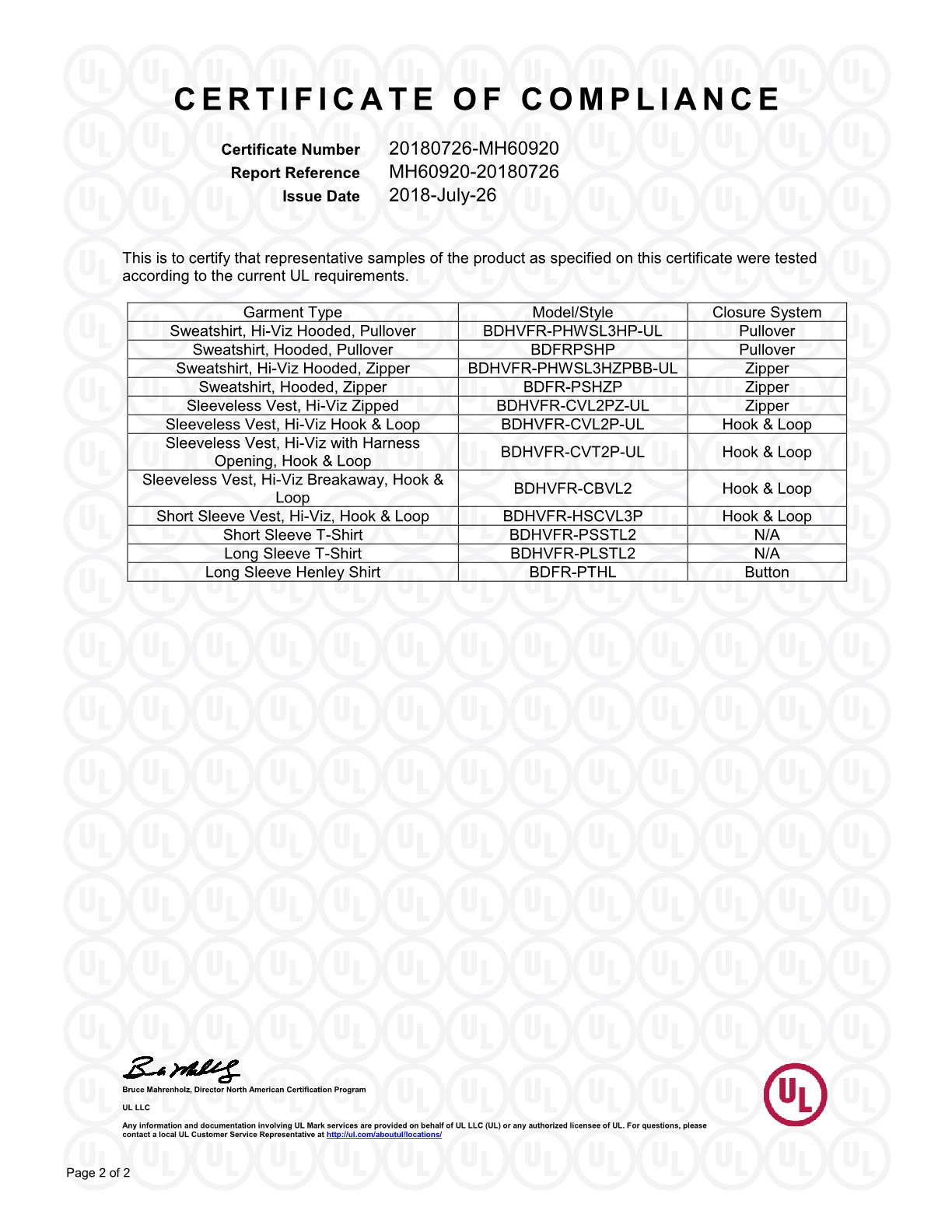 Flame Resistant Clothing (FRC) In accordance with Standard NFPA-2112-18 for protection of Industrial Personnel against short Duration thermal exposures from Fire (flash Fire).
IMPORTANT USER INFORMATION
.
The FRC Garments produced to meet this standard are intended to be used as workwear in situations where a Flash Fire may occur.
The garments are not intended and must not be worn to enter into proximity of fire or used for protection against chemicals, oils, hot metals, liquids or steam or to fight structural fires or wildland fire fighting. The garments when treated correctly and as the user information lays out will provide limited protection against clothing ignition and short term exposure to flames only. Failure to follow these instructions may result in serious injury or death."In the event of accidental exposure to an ignition source the health and safety of the worker will depend upon the performance of his/her FR PPE Clothing, The purchase of correct FRC clothing is not only important it is literally a matter of life and death." Care and Maintenance of Flame Resistant Clothing by Mr David Loftin.
As outlined by NFPA 2113 it is the user's responsibility to determine that the FRC is suitable for its intended purpose. Risk assessment of the Industrial environment should be performed by a certified and appointed safety officer in order to recommend the correct level and proper use of FRC to be worn. FRC is available for undergarments, base layer garments and outer garments including also the availability of High Visibility FRC meeting the same standard.Suitable training and instruction must be undertaken to recognize the hazards and limitations of the FRC. The FRC will not protect you against all Fire or Flame hazards
MARKING RECOMMENDATIONS AND RESTRICTIONS
Any added non-flame resistant or non-heat resistant company logos, insignia, badges, emblems, rank, title, nameplates, by print, embroidery, heat transfer application or other method of branding should be minimized and must be in accordance with the performance requirements of the standard. It is recommended to consult with Beryl Davis Ltd. branding department as such additions may invalidate the FRC warranty.
Beryl Davis Ltd will guarantee that all garments purchased will be free of workmanship defects and all mechanical elements, closures will operate as intended for normal wear within one year of purchase as long as the garments warning, use and care instructions are followed. Defective FRC should be notified immediately to Beryl Davis authorized representative to be returned or repaired
BDFR range of clothing is engineered, designed and sewn to meet the harsh requirement of the industries ergonomics and functional demands. The sizing guides on the individual packaging of the FRC are created to help you choose the correct size that will provide the workers with the BDFR "best fit and comfortable" solution. Each garment may have a differing amount of allowance based on whether the garment would be worn close to the skin or alternatively over several layers. The FRC should not be too loose or too tight and should not restrict movement.
FRC garments should be worn fully closed and only as fully intended. Sleeves should be buttoned and not be folded and shirt tails should be tucked in as to not expose bare skin or body areas.
CLEANING INSTRUCTIONS AND PRECAUTIONS
Cleaning of FRC should be performed as specified on FRC labels.Additionally Bleaches, Fabric softeners and Starches must not be used. The use of bleaches will reduce the flame resistant properties. The use of fabric softeners and starches will add to the flammability of the FRC. FRC should be turned and washed inside out, as many FR fabrics are heat sensitive high wash temperatures should be avoided. Different colors should not be mixed in the same wash load.Additional care should be taken to follow carefully labels on FRC that meets high visibility standard ANSI/ISEA 107-2015For optimum results washing machine should not be loaded in excess of 75%. Careful cleaning of contaminants will extend the life of the FRC however contaminated garments may increase the flammability of the FRC and negate the FRC properties of the fabric.
FRC must be inspected before each use.Great care and attention is taken to provide you with a perfect manufactured garment but it is the responsibility of the operator to physically inspect the FRC seam construction prior to donning.In the event under normal wear and laundry the garment is showing signs of rips, tears, abrasion or other structural seam or thread damage the FRC must be isolated and disposed of or sent for repair.In the event the FRC has been exposed to fire the garment should be disposed of or sent for repair.In the event the FRC has been exposed to hazardous materials, chemicals, oil spills, sparks or molten metals the garment should be isolated until thoroughly decontaminated. Inspection must be made after decontamination for any areas that are cracked, brittle, charred, discolored, stiff, faded, ripped or torn. In such an event the garment must be disposed of or sent for repair.
Garment must be cleaned according to garment care instructions prior to repair.Labels with care instructions are designed to be visible and outlive the life of the garment. The removal of such garment labels will invalidate the garment warranty. Repairs must only be undertaken by authorized Beryl Davis repair centers. These centers will use only threads, materials and hardware suitable for the standard of garment being repaired. Not all FR materials are suitable to be used on all FR Garments as the materials used will differ in their protective qualities.Unauthorized repairs to FRC will totally invalidate the warranty of the garment. Contact Beryl Davis Ltd for further information and advice.
Garment must be cleaned and inspected according to garment care instructions prior to any storage.FRC must be stored dry, away from direct sunlight, extreme cold, or sources of humidity. Damage caused due to prolonged incorrect storage may cause the FRC material to degrade and will decrease its protective properties.
If the garment is deemed unusable or unrepairable due to extensive wear, contaminants, or any of the exposures as listed in these instructions the FRC must be retired and disposed of according to acceptable community environmental proceedures. The FRC must not be recycled or resold as FRC.